Songwriting duo that started collaborating in 2011.
IRL, Kicks, Little Did I, Tonite, It Should've Been Me and My Heart Glows were some of the songs written in less than two weeks after launching the project. They were used as building blocks for '4-Groups R Out', Yoyo xno's first collection of recorded tracks.
Yoyo xno did a very low key gig at 'the Barn' after finishing work on '4-Groups R Out' . Some footage from 'the Barn' ended up in the video for IRL which was the first official release of our work.
The single Goin' Out is taken from the second project 'What Goes Down Must Come Up' and was the first song released on all major streaming services.
As this journey continues more songs are being released at the major digital stores. You'll find quick links using the "Listen"-button above. We also keep placing business cards all over the world with username and password that will give the finder access to unpublished songs at our own streaming portal on the original website yoyo.xno.se. Pictures and leads to find these business cards are published on our Facebook page and we do try to give you a heads up in blog posts here as well.
When we first started out, we called ourselves just "Yoyo". We chose that name as it is a misspelled shortening of our first names and we refer to eachother in emails as Yo and Yo. Although we are two different people this venture is us two together. We also take help from family, friends and good people everywhere that like our music Unfortunately our releases got mixed up with a rapper from CA using the name Yoyo and hence we changed our name to "Yoyo xno". xno = kiss and hug.
Below are our releases with the original release date – since our early singles were reissued under the new name "Yoyo xno" they all have the same release year at the streaming services. As of 2021 early singles will be taken down since all tracks has been made available on the album Col. Salts's Singles Club.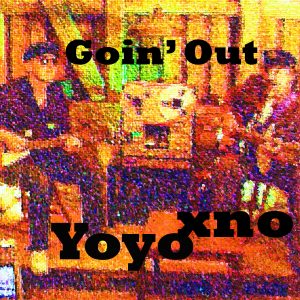 Goin' out was originally released January 10, 2014 and our first track on all major digital music distributors. But it was the second song of ours to go public. The first song to be published was IRL (In real life) that we uploaded to YouTube for Christmas 2012 as we were completing the original website.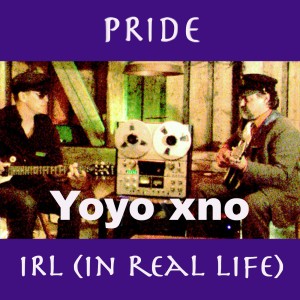 Second single Pride / IRL (In Real Life) came out August 28, 2014. Both songs were from our first compilation "4-groups R out". This cover art was designed in order for us to be able to use it more like a logo and simply alter titles and color when releasing some new songs. As our intention is to create and publish great songs, rather than become familiar faces and artists, this cover was just perfect.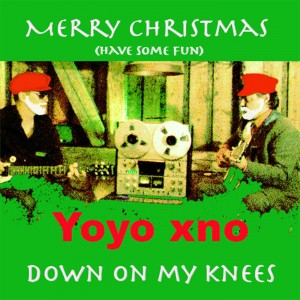 Our first two singles got some attention and were played by a few radio stations mainly in USA. Arroe Collins, at the time with iHeartRadio, had made interviews with us in connection with both releases and he now challenged us to release a Christmas single. In a matter of weeks the third single Merry Christmas (Have some fun) / Down on my knees was written, recorded, produced and sent off to the streaming services. Original release date, October 23, 2014.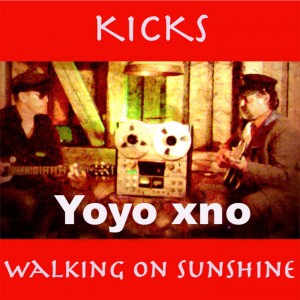 The Christmas single was a bit of a success and spread to many new radio stations around the world and so we felt it would be OK to release more tracks. Fourth single Kicks / Walking on sunshine came out February 25, 2015. Kicks came from the first collection of songs made in 2012 and Walking on sunshine from our second collection the following year. A year after this single was released the second song started spinning in Asia for reasons that we still haven't figured out – but we're always happy when our songs are being played.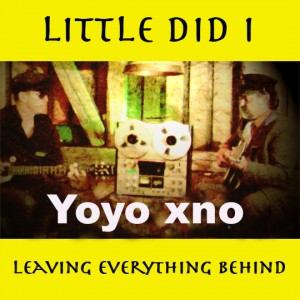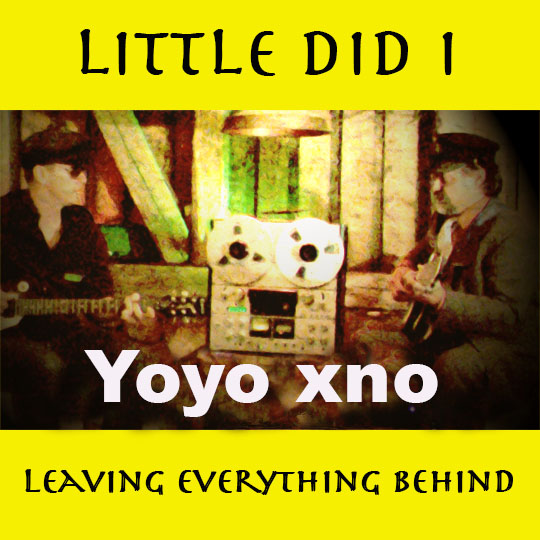 Fifth single Little did I / Leaving everything behind was originally released April 1, 2015. Little did I comes from our first collection of songs "4 groups are out" and Leaving everything behind was written during our third year of this project for that years collection of songs called "Capturing Sensations". By this time we had realized that it could be a good thing to produce short versions of each songs to promote them on YouTube and not only publish the lyric videos that we do as a gesture of goodwill for everyone that likes to sing along. So, about this time we started publishing short versions there for previous releases.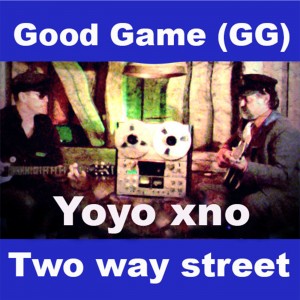 When it was time for single number six, we thought we'd release some great rock songs with hit potential. Good Game (GG) / Two way street hit the streaming services on May 29, 2015, but that seems to be the only hit about them. We do know, however, that our long-term radio broadcaster friend, at WFAQ LP-FM in Wisconsin, holds the second song as a favorite and got the Beatles references straight away. That song comes from our second year of songwriting and the first track is from "Capturing Sensations"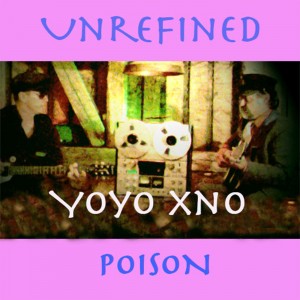 If rock won't be a hit, let's try pop and a one chord emo-thing and see where that takes this project. The seventh single Unrefined / Poison was supposed to be released in early 2016, but insufficient brain capacity made us click release asap instead of a fixed date. Original release became December 29, 2015. Both songs were written during 2015 for the collection "Contagious Guitars" that year. We were getting closer to writing and releasing in real time, maybe we were getting more confident about it all. Single was taken down from streaming services January 2021 as both songs are on the EP "Yoyo xno".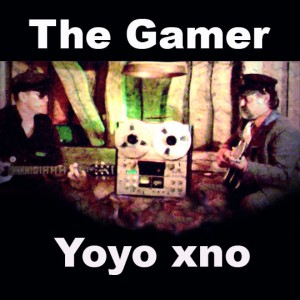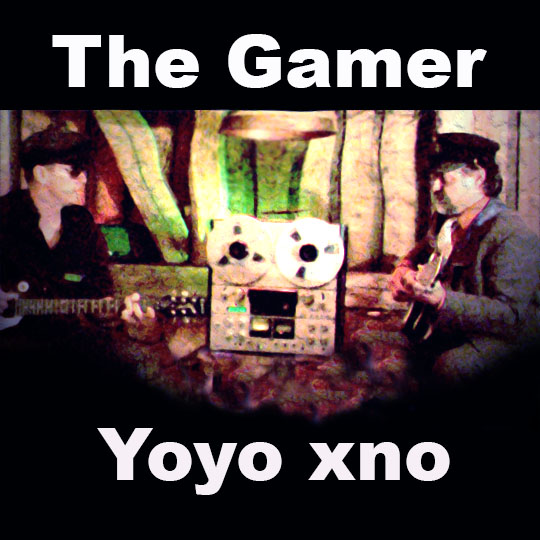 As we don't want to be categorized to a certain style of music we try to vary the type of songs that we publish. A contest to write a theme song for the computer gaming event "Dreamhack" lead to the release of The Gamer on June 10, 2016. Written, recorded, produced and released that year. (No, we didn't win that contest – and we don't know who did.)
August 5, 2016 marks the release of Givin' it, our collaboration with rapper Johnny B, who contacted us that year with a request of a joint venture. We worked together off and on for about a year, and of the several songs we made together, this is the one that we chose to release. We were asked by radio people "Is this really you?" and if we could send a "radio clean" version, but we don't know what that means – we've marked this single "Explicit" at the digital stores.
Our first EP, Yoyo xno, has five tracks altogether. Two of them were remixed versions of the single Unrefined / Poison and the three remaining songs were released for the first time. First track In my room was written for the collection "Contagious Guitars" the year before, the song Pet Farm (Happy Hog) was made prior to this project back in 2008 and All the way came to be at the beginning of the year of the release. Last song mentioned needed more than our voices to become the idea that we had in our heads and some good people came around to help us realize that idea. EP released November 4, 2016.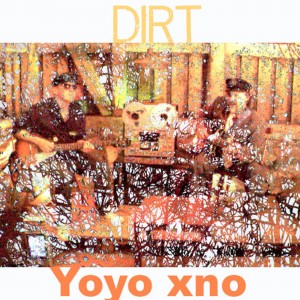 Second EP "DIRT" came out March 17, 2017. 1. Ground is clay was written and recorded three years prior to this release. Lead vocals is from the first creation of the song and sung into a cell phone mic in the middle of the night. 2. Man in clay and 3. I'm doin' it  too were written for the compilation "What goes down must come up"on the original website. 2 has a harmonized guitar solo inspired by the American band "Eagles" and induced the making of 1 which in turn lead to the creation of 3. The overblown use of the word clay in these lyrics lead to 4. Muddy Waters (if not clay – try mud), a 5/4 piece inspired by the song "Take Five" by Dave Brubeck and all this clay and mud lead us to name this EP "DIRT". Songs not easily connected to the word "Dirt" are 5. Great Reward which comes from the collecton "Contagious Guitars" and 6. Lifetime that comes from "Capturing Sensations" – the last track is actually the demo recorded just as the song was written and not the elaborated version that we had in mind to begin with and that was broadcasted in some parts of the US some years earlier but never released on streaming services in that manner. EP went off streaming services January 2020 due to a payment failure in connection with change of payment service and was reissued May 15, 2020.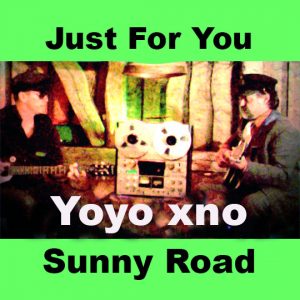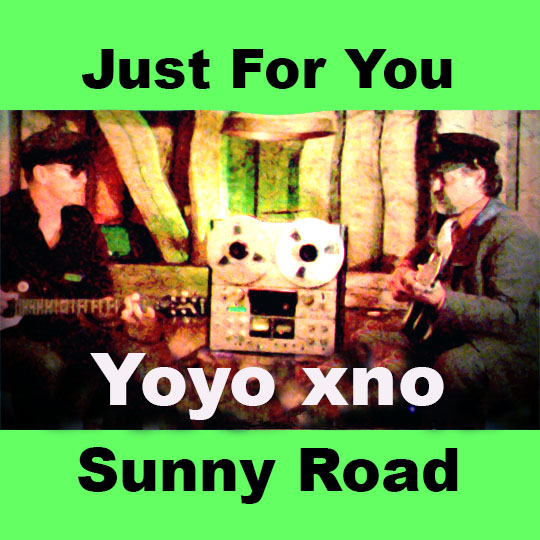 We published this single on July 21, 2017 as a complement to all the recent releases with real instruments. Both songs are strictly digital in an attempt to create a modern environment without us being total copy cats. First track Just For You was written earlier the same year and the second track Sunny Road is from "Contagious Guitars" and was originally recorded with only acoustic instruments but altered for this release. We made an interview with Arroe Collins about this release that was broadcasted months later. Yeah, we wanted to see if a summer release would work and we know now. Over the years the first track seem to have stuck with some of our listeners.
It had been a while since we collaborated with someone on our releases and we had this song Transition from "What goes down must come up" that we felt would get so much better with a female lead vocal. We made two versions of the song, a duet and one with Emilia on lead and us backing. We're so lucky to find good people to work with and the release date was February 1, 2018. New radio friend, David Bowers, USA, made an interview about it in connection with the release. New music promotion site in Netherlands @MusicaNL came on the bandwagon in connection with this release and helped sharing the songs on their platforms. The soft version of Transition was the first time for us using live drumming in the southern pre-studio.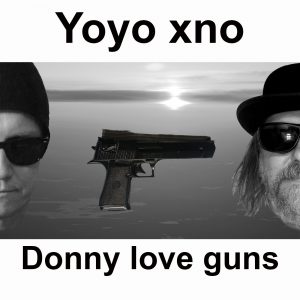 This year we were preparing to release our first album and then there was another school shooting in the US. With all the crap being written all over, we felt we had to comment and used the music from two of the songs (Burning Bridges, Building Walls and Donny Love Guns (for real)) written for the album to create the single version of Donny love guns. It was made rapidly and released on April 3, 2018. Long time radio broadcast friend in Australia, Banks Radio/Valley FM, altered the title in their playlist to "Donny Loves Guns", which is totally ok but might make it difficult to find the song. Donny Loves Guns actually makes more sense in this mash-up of the two songs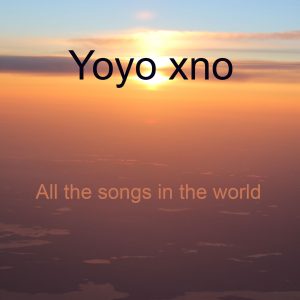 First album "All The Songs In The World", release date October 26, 2018. 1. Never address the issue emerged early this year and immediately had the feeling of an opening of an album about it. It's perhaps a statement that we don't want to get stuck in a single genre. 2. All You Want To Hear – your average carpool karaoke song that came along whilst commuting fall 2017. 3. Always My Truth is one of the songs reflecting upon the state of politics in these days, made during this year. 4. We are not alone is also a song of this day and age made this year. 5. Logged Out is one more song about social media and Internet, the back tracks were created for a rap with "Johnny B" a few years back and we made the new lyric and melody this year. 6. We're here now comes from ideas that had lingered on for some years and was mounted together for this album. 7. Nothing without you started to bounce between our pre-studios in 2017 and met it's final version in the summer of 2018. 8. Burning Bridges, Building Walls was in the making during spring this year and most of the soundtrack was used for the single Donny Love Guns. 9. Donny Love Guns (For Real) is the song about a school shooting that we put into "Burning Bridges, Building Walls" making the single Donny Love Guns. Confusing? Yes, we love to be! 10. Lonesome Road has been laying around waiting to be released and was written for the collection "Contagious Guitars" a few years ago. It's thoughts and feelings in connection with spending time with someone you love knowing the days you have left aren't endless. 11. Can't see You Anymore is a synthetic piece in line with several similar songs that we've made over the years but not published until now. 12. All the songs in the World was written during our first joint session back in 2012 and for a couple of years we'd forgotten about it. One day trying to create something new, we started going through old files and found this tune with everything but the lyric. Kind of easy to sum it up. Radio friend David Bowers was back to chat with us about the album and chose track 6 and 12 for the show.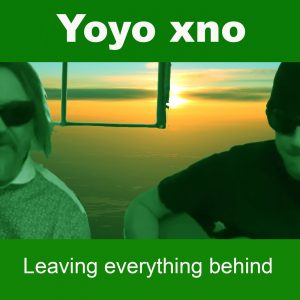 From the live recording session made in November 2017 we have chosen to release "Leaving Everything Behind (Acoustic)". Release date May 3, 2019. With much work going on for the second album to come, it was convenient to drop a previous recording just to have something new at the digital music distributors. We did, however, enhance the sound a bit on this release compared to the version on YouTube.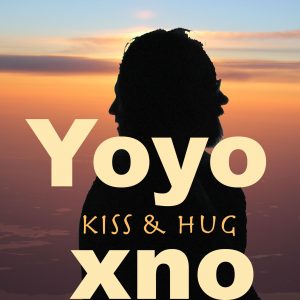 Second album "Kiss & Hug", release date September 27, 2019. Eleven tracks created without us using our guitars at all. Synthetic to the core, some experimental tracks and some rock and pop dressed up digitally. All songs written, recorded and produced from November 2018 to July 2019. 1. 1790 – we start this album up with a new hymn that follows music tradition hundreds of years back and reflects upon the state of things in France the year after the revolution. We find similarities with today. 2. Better Days – begins as a synthetic rock piece, turns into some kind of electronica and falls back again. About electric cars, trains and your average airplane. 3. Landslide – synth pop that fits any type of excercise, not just dancing, lyric about not turning back. New radio friend in UK, Sheppey FM, chose this track and a few more from this album for airing. 4. Countryside – the only track on this album where the drums sound as a regular acoustic kit, lots of animal sounds here too as the song is about enjoying a trip far from stress, city lights and all that jazz. 5. Better Ways – Wanted to dwell on the electronic part of the second track and made this one for the dance floor – just imagine dancing with a wonderful someone singing along "ask me anything, I'll do anything". 6. Hold it – Here we go searching for odd ways to write and produce music that will tickle your ears and put traditional format aside. Soft and searching. 7. Yes – Continuing to explore new ways of songwriting and creating unusual songs with a lyric that doesn't tell you what to think but rather leaves it open for you to do so. 8. Set in Stone – is following the format of a regular pop song but with a few, hopefully unexpected sounds. We think this too was a favorite of our new friends in the UK.  9. Where you are – a soft modern lullaby about what might happen if you turn off your phone when you go to bed. You might get the impression that acoustic instruments have been used here, but it's all digital. If you get disturbed by the humming that accompanies the lead vocal you should lower your listening volume. 10. Contract and Expand – this one is inspired by German club music experienced some years ago in Berlin where all songs had this massive, intensive drum going on. 11. Say Goodbye – signing out with something more mainstream and perhaps catchy. Just saying goodbye for now, leaving the digital, non-guitar music in order to continue this journey with live studio recordings we just made.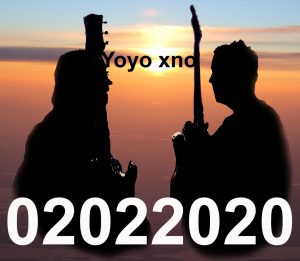 EP went live February 04 (the plan was 02), 2020, but some of the songs went out in the air on the correct date, thanks to "The David Bowers Awards and others on various radio stations, and we got the first track out as a lyric video on YouTube on the special date.
First track Wiggle Your Wicked Pants, a hard rock piece with AC/DC influences. The guitar riff came about in a guitar store in L.A. a couple of years ago and when we were messing in the main studio up north in the summer of 2019 with a guest drummer and keyboardist the song was created. 2. Without You (The Phone Song) one of the tracks invented in the studio from a few guitar sketches that one Yo brought along. Other Yo had a great time writing the lyrics after the recording session and originally intended to sing "My Phone How can I Live Without You" but we altered the lyrics later on in the process. 3. Overthrown also a track made during the recording session out of thin air mostly. Just four guys jamming and finding a structure for a music piece. 4. Little Mo Right before taking off to the recording session one Yo asked the other Yo to write two tracks and send them to the other guys so that we'd have something to start with. Departure was only 24 hours away so there was only one song made on that short notice. The inspiration for this song came from spending time with a five year old wonderful girl and when it was time to record the vocals we came to think of one favorite radio station in Mukwonago and how well it would fit the chorus to give them a shout out for supporting us and playing our music over the years. Hence we made a special version of the song for their station only and you can listen to it here. We were also back on air in an interview on the David Bowers Awards with this release.
Time for a new single and to get a crowd to join us singing. The song Free as a bird was written in the summer of 2019 for a collaboration with an african singer that didn't work out. As we thought the song has some nice features that are in line with our song All the way that has been our most streamed song for some years, we thought it'd be good to release it. Voices recorded just before the 2020 lock down and isolation. Single distributed to radio stations in May 2020 and hit the streaming services August 14.
A lot of plans were scrapped during 2020 due to the Corona pandemic, but a group of people interested in Folk Music, KALASFOLKET, came to the main studio to record during this summer. We wrote a piece that we hoped would suit their setting and they replied with a wonderful version of a traditional Schottis that we put words to. First track Til the virus has gone dead (Schottis from Kalix) is what we think would happen if Led Zeppelin and Ozzy Osbourne would have played a schottis. Second track Manamarammah is more of a pop folk thing where one Yo picked up his fiddle to enhance the folklore. Release date January 22, 2021.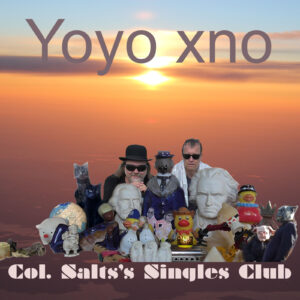 We wanted to gather our early single releases on an album and hence the compilation "Colonel Salts's Singles Club". (Yeah, we still don't get how come an extra "S" landed in the title…) The songs are not placed in the order of their original release, but rather to create a set list where they accompany each other nicely. In order for that to work we made some interludes between some of the tracks and an intro. The intro is an enhanced version of the soundtrack that used to start automatically on our original website as soon as you got there. It's, for some reason, not allowed to have sound going automatically on websites any more, so it's not there anymore. Eventually we will take down some, or all, of the singles from streaming services further on. It might be a smart thing to do to save the new links at your streaming service, just in case the bots won't find the new ones as the old links go down. Here's the order on the album: 1 Col. Salt's Singles Club (Inro) as described above. 2 Goin' Out the first song we published on streaming services back in 2014. 3 Walking on Sunshine read more above. 4 Col. Salt 1 (Interlude) a short digital distrubance where a recorder presents the guitar riff of the following song. 5 Two Way Street read more above. 6 IRL (In real life) read more above. 7 Little did I read more above. 8 Sunny Road read more above. 9 The Gamer read more above. 10 Col. Salt Interlude 2 a short digital disturbance presenting the guitar riff of the following song. 11 Good Game read more above. 12 Just for you read more above. 13 Leaving Everything Behind read more above. 14 Pride read more above. 15 Col. Salt Interlude 3 a short digital distrubance where different types of bells presents the one tone going through, pretty much, the whole next song. 16 Kicks read more above. 17 Givin' It read more above. 18 Down on my knees read more above. 19 Merry Christmas (Have some fun) read more above. Album released May 14. 2021.
NEW SONGS CURRENTLY IN THE MAKING – single to be expected fall 2021. Song called Imminent ready for publication. More singles to be expected.
Since you actually scrolled down here to see if there's anything else to know we'll give you a shortcut to the chronicle on the original page, dating back to the start of this project.